A sterilizer is required for disinfecting daily use baby products like bottles and breast pumps so that they do not pass on any germs to baby during use. Earlier baby bottles were boiled in water to rid them of germs but that is time consuming and not very effective as when baby is hungry, you will not have time to boil the bottle first.
A sterilizer provides you the ease of disinfecting the bottles and keeping them sterilized for up to 24 hours (varies with sterilizers), thus you can simply take out the bottle and use it to feed your baby without worrying about germs.
There are 2 types of sterilizers available in the market:
Microwave Sterilizers

Electric Sterilizers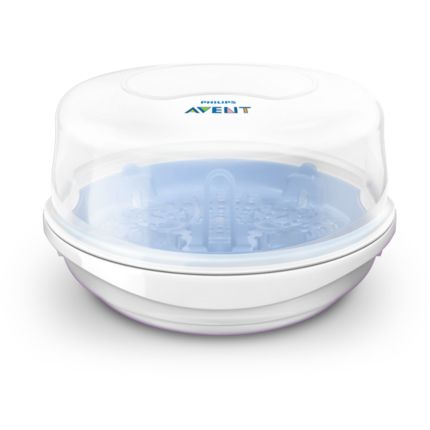 These are the simple sterilizers which use microwave as heating medium. Here the bottles and other products to be sterilized are kept in the sterilizer along with a predefined amount of water. The sterilizer is closed and kept inside the microwave. Based on the heating capacity of the microwave, a sterilization cycle completes in 2 to 8 minutes.
These sterilizers are more cost effective than electric sterilizers, they are also comparatively smaller in size, thus making
them ideal for use during travel.
The price range for microwave sterilizers starts from as low as Rs.700 and may go upto Rs 2000 for established brands such as Avent, Chicco or Pigeon.
However, please keep in mind two things before going for a microwave sterilizers:
It cannot be used to sterilize any metal items or even plastic items which are non microwaveable.

Please check the size of sterilizer with the size of your microwave as all sterilizers may not fit the smaller sized microwaves.
Electric Sterilizers:
Phillips Avent 3-in-1 Sterilizer
These sterilizers have a built in heating element which runs on electricity to create steam from water. The items to be sterilized are kept on the tray inside sterilizer and a predefined amount of water is poured onto the heating element. The top lid is shut and the sterilizer is switched on. A sterilization cycle takes approximately 10 to 15 minutes. The items inside the sterilizer will remain sterilized as long as the lid is kept shut for 8-24 hrs, based on sterilizer used.
The benefit of these sterilizers is that they can be used to disinfect any kind of baby product including metal ones. Also these can be kept inside the baby room and will provide required humidity as well during winters.
The price range for electric sterilizers starts from around Rs. 2000 and goes upto Rs. 5000.
One thing that needs to be taken care of is, cleaning of the heating element as it may accumulate deposits due to water hardness and needs to be cleaned at least once every 3 weeks to prevent any bad odor in sterilizer.
I am using the Philips Avent 3-in-1 Electric Sterilizer. Bought for Rs. 3146 from a Mom and Me store. The sterilizer is big in size thus has good capacity. You can easily sterilize up to 6 bottles and nipples in one go. Please note one thing, the blue power button on the sterilizer does not stay inside when you press it. It pops out. The light indicator is the one that tells you if the sterilizer is on or not. In case you are going to travel a lot with the baby, I would suggest the Pigeon electric sterilizer which has the capacity of 2 bottles at a time. The same will cost around Rs. 2300 but is of a very handy size. Also, it is serving well a friend of mine for past 1 and a half years.
An electric sterilizer needs to be regularly cleaned for any deposits that may be visible on the heating element. Refer to our guide for cleaning the sterilizers:
Cleaning a Baby Bottle Sterilizer
Please note: Sterilization is not a substitute for cleaning of the bottle. Any bottle or item needs to be cleaned with hot water or a bottle cleaning liquid before sterilization.